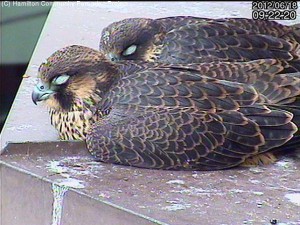 Hamilton, Ontario's resident Peregrine Falcons, Madam X and Surge have once again engaged the community.
April 5th, 2012 the Hamilton Community Peregrine Project was able to confirm that the pair had laid 4 eggs.
Three eggs hatched between May 4th and May 6th, 2012 (the fourth did not hatch as sometimes happens).
The chicks were banded May 31st, 2012. There were three boys – Beckett (682 grams), Felker (671 grams) and Tiffany, who weighed in at a trim 641 grams.  The chicks were quite calm during the weighing and banding process.
As in 2006, this year's chicks were named after more of Hamilton's waterfalls. Lower Beckett Falls, named after the Beckett Family who owned the surrounding lands in the early 1900s, is a 'Ribbon Cascade and Falls' whose water flows under Beckett Drive on the escarpment just east of St. Joseph's Hospital. Its flow is prominent during rainfalls and the winter snow melt. Felker's Falls, located in eastern Hamilton on Davis Creek, a branch of Red Hill Creek, is a 'Terraced Ribbon Falls' on land formerly owned by Joseph Benjamin Felker, who was born and lived his entire life on that property. Tiffany Falls, located in the Tiffany Falls Conservation Area in Ancaster, is a 'Cascade Waterfall' fed by Tiffany Creek. All three were named after Dr. Oliver Tiffany, the district's first doctor, who came to Ancaster Township in 1796 and served the population of the village and area for forty years.
By June 18th, 2012 all three chicks have taken flight and are practicing their new skill.
If you are in downtown Hamilton be sure to drop by and see the Falconwatch live video from the Peregrine nest in our Jackson Square Mall television monitor and information station.  Falconwatch would like to thank the Jackson Square Dental Office for once again sharing their booth with the monitor and information signs.